"We are really disappointed with the result., It's difficult to describe in words how we feel. They are a team with a lot of experience, they know how to play those type of games … so it was difficult for us to create many chances. As soon as they scored the goal, they put the whole team behind … it's very difficult score against them. WE tried until the end but it wasn't enough ….. We have to keep fighting but this is a tough moment, I feel sad."

","elementId":"e66c69fe-2e2e-4732-ae58-5c248e78f024″}],"attributes":{"pinned":false,"keyEvent":true,"summary":false},"blockCreatedOn":1647381687000,"blockCreatedOnDisplay":"18.01 EDT","blockLastUpdated":1647382457000,"blockLastUpdatedDisplay":"18.14 EDT","blockFirstPublished":1647382458000,"blockFirstPublishedDisplay":"18.14 EDT","blockFirstPublishedDisplayNoTimezone":"18.14″,"title":"De Gea's reaction","contributors":[],"primaryDateLine":"Tue 15 Mar 2022 18.35 EDT","secondaryDateLine":"First published on Tue 15 Mar 2022 14.45 EDT"},{"id":"62310acf8f0827cfb7b98eaa","elements":[{"_type":"model.dotcomrendering.pageElements.TextBlockElement","html":"

United are out of the Champions League. Who knows when we will see them in it again? They simply weren't good enough today, a ragged, low-energy bunch beaten by a cannier team. When the final whistle sounded, Diego Simeone ran for the tunnel, dodging various missiles from home fans.

","elementId":"be3c8bf1-dd74-479d-8418-2707631580ff"}],"attributes":{"pinned":false,"keyEvent":true,"summary":false},"blockCreatedOn":1647381199000,"blockCreatedOnDisplay":"17.53 EDT","blockLastUpdated":1647381348000,"blockLastUpdatedDisplay":"17.55 EDT","blockFirstPublished":1647381348000,"blockFirstPublishedDisplay":"17.55 EDT","blockFirstPublishedDisplayNoTimezone":"17.55″,"title":"Full-time: Manchester United 0-1 Atletico Madrid (agg: 1-2)","contributors":[],"primaryDateLine":"Tue 15 Mar 2022 18.35 EDT","secondaryDateLine":"First published on Tue 15 Mar 2022 14.45 EDT"},{"id":"6230fb8c8f0810b64b1b595d","elements":[{"_type":"model.dotcomrendering.pageElements.TextBlockElement","html":"

United are in trouble. They were on top for most of the first half and missed a couple of good chances before being felled by a cutting counter-attack. Atletico have them where they want them.

","elementId":"bc8c3f59-8e18-4bbb-b22e-ba597ecd4191″}],"attributes":{"pinned":false,"keyEvent":true,"summary":false},"blockCreatedOn":1647377292000,"blockCreatedOnDisplay":"16.48 EDT","blockLastUpdated":1647377375000,"blockLastUpdatedDisplay":"16.49 EDT","blockFirstPublished":1647377377000,"blockFirstPublishedDisplay":"16.49 EDT","blockFirstPublishedDisplayNoTimezone":"16.49″,"title":"Half-time: United 0-1 Atletico (Agg: 1-2)","contributors":[],"primaryDateLine":"Tue 15 Mar 2022 18.35 EDT","secondaryDateLine":"First published on Tue 15 Mar 2022 14.45 EDT"},{"id":"6230fa528f0810b64b1b594e","elements":[{"_type":"model.dotcomrendering.pageElements.TextBlockElement","html":"

40 min: The goal was reviewed by Var to see whether Elanga was fouled in the build-up. But the officials rule the forward went down too easily. From that Atletico tore forward, Atletico played a cute reverse pass to the overlapping Griezmann, who crossed for Lodi to send a downward header into the net, with Dalot seemingly unaware of his presence.

","elementId":"4b12e9ed-9aa3-4b8c-8b89-31d7c57b2e1d"},{"_type":"model.dotcomrendering.pageElements.ImageBlockElement","media":{"allImages":[{"index":0,"fields":{"height":"1837″,"width":"2826″},"mediaType":"Image","mimeType":"image/jpeg","url":"https://media.guim.co.uk/51f02f3a750fc77bfcecbdaa127d584798a41967/0_0_2826_1837/2826.jpg"},{"index":1,"fields":{"isMaster":"true","height":"1837″,"width":"2826″},"mediaType":"Image","mimeType":"image/jpeg","url":"https://media.guim.co.uk/51f02f3a750fc77bfcecbdaa127d584798a41967/0_0_2826_1837/master/2826.jpg"},{"index":2,"fields":{"height":"1300″,"width":"2000″},"mediaType":"Image","mimeType":"image/jpeg","url":"https://media.guim.co.uk/51f02f3a750fc77bfcecbdaa127d584798a41967/0_0_2826_1837/2000.jpg"},{"index":3,"fields":{"height":"650″,"width":"1000″},"mediaType":"Image","mimeType":"image/jpeg","url":"https://media.guim.co.uk/51f02f3a750fc77bfcecbdaa127d584798a41967/0_0_2826_1837/1000.jpg"},{"index":4,"fields":{"height":"325″,"width":"500″},"mediaType":"Image","mimeType":"image/jpeg","url":"https://media.guim.co.uk/51f02f3a750fc77bfcecbdaa127d584798a41967/0_0_2826_1837/500.jpg"},{"index":5,"fields":{"height":"91″,"width":"140″},"mediaType":"Image","mimeType":"image/jpeg","url":"https://media.guim.co.uk/51f02f3a750fc77bfcecbdaa127d584798a41967/0_0_2826_1837/140.jpg"}]},"data":{"alt":"Renan Lodi celebrates his goal.","caption":"Renan Lodi celebrates his goal.","credit":"Photograph: Martin Rickett/PA"},"displayCredit":true,"role":"inline","imageSources":[{"weighting":"inline","srcSet":[{"src":"https://i.guim.co.uk/img/media/51f02f3a750fc77bfcecbdaa127d584798a41967/0_0_2826_1837/master/2826.jpg?width=620&quality=85&auto=format&fit=max&s=76690b01edf7f08ce6a1feb0c4be7873″,"width":620},{"src":"https://i.guim.co.uk/img/media/51f02f3a750fc77bfcecbdaa127d584798a41967/0_0_2826_1837/master/2826.jpg?width=620&quality=45&auto=format&fit=max&dpr=2&s=f86147cb06bc32f6d32230c8d91f97d5″,"width":1240},{"src":"https://i.guim.co.uk/img/media/51f02f3a750fc77bfcecbdaa127d584798a41967/0_0_2826_1837/master/2826.jpg?width=605&quality=85&auto=format&fit=max&s=3512c0e9d5fb25bca8d1ce99bbb63364″,"width":605},{"src":"https://i.guim.co.uk/img/media/51f02f3a750fc77bfcecbdaa127d584798a41967/0_0_2826_1837/master/2826.jpg?width=605&quality=45&auto=format&fit=max&dpr=2&s=9a8c8cdf4780ad122abe44178b79bc14″,"width":1210},{"src":"https://i.guim.co.uk/img/media/51f02f3a750fc77bfcecbdaa127d584798a41967/0_0_2826_1837/master/2826.jpg?width=445&quality=85&auto=format&fit=max&s=d52f579287c3043fdf1a07fcb96f4e28″,"width":445},{"src":"https://i.guim.co.uk/img/media/51f02f3a750fc77bfcecbdaa127d584798a41967/0_0_2826_1837/master/2826.jpg?width=445&quality=45&auto=format&fit=max&dpr=2&s=caf2f448f297b41f4d4781c6dbd575b0″,"width":890}]},{"weighting":"thumbnail","srcSet":[{"src":"https://i.guim.co.uk/img/media/51f02f3a750fc77bfcecbdaa127d584798a41967/0_0_2826_1837/master/2826.jpg?width=140&quality=85&auto=format&fit=max&s=fcaf6af1efeac1bce7226239596e8836″,"width":140},{"src":"https://i.guim.co.uk/img/media/51f02f3a750fc77bfcecbdaa127d584798a41967/0_0_2826_1837/master/2826.jpg?width=140&quality=45&auto=format&fit=max&dpr=2&s=7dee2dde5fbfdaf4c756748da0c70232″,"width":280},{"src":"https://i.guim.co.uk/img/media/51f02f3a750fc77bfcecbdaa127d584798a41967/0_0_2826_1837/master/2826.jpg?width=120&quality=85&auto=format&fit=max&s=975dfdefb8255ab8153e43ffa6d5c049″,"width":120},{"src":"https://i.guim.co.uk/img/media/51f02f3a750fc77bfcecbdaa127d584798a41967/0_0_2826_1837/master/2826.jpg?width=120&quality=45&auto=format&fit=max&dpr=2&s=fecc6329db724ba6f19e1c831073de64″,"width":240}]},{"weighting":"supporting","srcSet":[{"src":"https://i.guim.co.uk/img/media/51f02f3a750fc77bfcecbdaa127d584798a41967/0_0_2826_1837/master/2826.jpg?width=380&quality=85&auto=format&fit=max&s=6942bfd960cd038cb0f9d8afc7afcaf7″,"width":380},{"src":"https://i.guim.co.uk/img/media/51f02f3a750fc77bfcecbdaa127d584798a41967/0_0_2826_1837/master/2826.jpg?width=380&quality=45&auto=format&fit=max&dpr=2&s=886f79f42bbb9d75ad075436aa4dfea9″,"width":760},{"src":"https://i.guim.co.uk/img/media/51f02f3a750fc77bfcecbdaa127d584798a41967/0_0_2826_1837/master/2826.jpg?width=300&quality=85&auto=format&fit=max&s=f5b6e169bc33364b4547ca80130be26c","width":300},{"src":"https://i.guim.co.uk/img/media/51f02f3a750fc77bfcecbdaa127d584798a41967/0_0_2826_1837/master/2826.jpg?width=300&quality=45&auto=format&fit=max&dpr=2&s=68c996e672751a960f714a306d62e34a","width":600},{"src":"https://i.guim.co.uk/img/media/51f02f3a750fc77bfcecbdaa127d584798a41967/0_0_2826_1837/master/2826.jpg?width=620&quality=85&auto=format&fit=max&s=76690b01edf7f08ce6a1feb0c4be7873″,"width":620},{"src":"https://i.guim.co.uk/img/media/51f02f3a750fc77bfcecbdaa127d584798a41967/0_0_2826_1837/master/2826.jpg?width=620&quality=45&auto=format&fit=max&dpr=2&s=f86147cb06bc32f6d32230c8d91f97d5″,"width":1240},{"src":"https://i.guim.co.uk/img/media/51f02f3a750fc77bfcecbdaa127d584798a41967/0_0_2826_1837/master/2826.jpg?width=605&quality=85&auto=format&fit=max&s=3512c0e9d5fb25bca8d1ce99bbb63364″,"width":605},{"src":"https://i.guim.co.uk/img/media/51f02f3a750fc77bfcecbdaa127d584798a41967/0_0_2826_1837/master/2826.jpg?width=605&quality=45&auto=format&fit=max&dpr=2&s=9a8c8cdf4780ad122abe44178b79bc14″,"width":1210},{"src":"https://i.guim.co.uk/img/media/51f02f3a750fc77bfcecbdaa127d584798a41967/0_0_2826_1837/master/2826.jpg?width=445&quality=85&auto=format&fit=max&s=d52f579287c3043fdf1a07fcb96f4e28″,"width":445},{"src":"https://i.guim.co.uk/img/media/51f02f3a750fc77bfcecbdaa127d584798a41967/0_0_2826_1837/master/2826.jpg?width=445&quality=45&auto=format&fit=max&dpr=2&s=caf2f448f297b41f4d4781c6dbd575b0″,"width":890}]},{"weighting":"showcase","srcSet":[{"src":"https://i.guim.co.uk/img/media/51f02f3a750fc77bfcecbdaa127d584798a41967/0_0_2826_1837/master/2826.jpg?width=860&quality=85&auto=format&fit=max&s=17456dbfcb08f39bffa8c877ebf24082″,"width":860},{"src":"https://i.guim.co.uk/img/media/51f02f3a750fc77bfcecbdaa127d584798a41967/0_0_2826_1837/master/2826.jpg?width=860&quality=45&auto=format&fit=max&dpr=2&s=d3d73b7cf0c252294d132d47e1a65ec2″,"width":1720},{"src":"https://i.guim.co.uk/img/media/51f02f3a750fc77bfcecbdaa127d584798a41967/0_0_2826_1837/master/2826.jpg?width=780&quality=85&auto=format&fit=max&s=aa3a07a96e32cdec8c95f2b21c1845b8″,"width":780},{"src":"https://i.guim.co.uk/img/media/51f02f3a750fc77bfcecbdaa127d584798a41967/0_0_2826_1837/master/2826.jpg?width=780&quality=45&auto=format&fit=max&dpr=2&s=a20f67d87bd7463f9628f18fb804ce6b","width":1560},{"src":"https://i.guim.co.uk/img/media/51f02f3a750fc77bfcecbdaa127d584798a41967/0_0_2826_1837/master/2826.jpg?width=620&quality=85&auto=format&fit=max&s=76690b01edf7f08ce6a1feb0c4be7873″,"width":620},{"src":"https://i.guim.co.uk/img/media/51f02f3a750fc77bfcecbdaa127d584798a41967/0_0_2826_1837/master/2826.jpg?width=620&quality=45&auto=format&fit=max&dpr=2&s=f86147cb06bc32f6d32230c8d91f97d5″,"width":1240},{"src":"https://i.guim.co.uk/img/media/51f02f3a750fc77bfcecbdaa127d584798a41967/0_0_2826_1837/master/2826.jpg?width=605&quality=85&auto=format&fit=max&s=3512c0e9d5fb25bca8d1ce99bbb63364″,"width":605},{"src":"https://i.guim.co.uk/img/media/51f02f3a750fc77bfcecbdaa127d584798a41967/0_0_2826_1837/master/2826.jpg?width=605&quality=45&auto=format&fit=max&dpr=2&s=9a8c8cdf4780ad122abe44178b79bc14″,"width":1210},{"src":"https://i.guim.co.uk/img/media/51f02f3a750fc77bfcecbdaa127d584798a41967/0_0_2826_1837/master/2826.jpg?width=445&quality=85&auto=format&fit=max&s=d52f579287c3043fdf1a07fcb96f4e28″,"width":445},{"src":"https://i.guim.co.uk/img/media/51f02f3a750fc77bfcecbdaa127d584798a41967/0_0_2826_1837/master/2826.jpg?width=445&quality=45&auto=format&fit=max&dpr=2&s=caf2f448f297b41f4d4781c6dbd575b0″,"width":890}]},{"weighting":"halfwidth","srcSet":[{"src":"https://i.guim.co.uk/img/media/51f02f3a750fc77bfcecbdaa127d584798a41967/0_0_2826_1837/master/2826.jpg?width=620&quality=85&auto=format&fit=max&s=76690b01edf7f08ce6a1feb0c4be7873″,"width":620},{"src":"https://i.guim.co.uk/img/media/51f02f3a750fc77bfcecbdaa127d584798a41967/0_0_2826_1837/master/2826.jpg?width=620&quality=45&auto=format&fit=max&dpr=2&s=f86147cb06bc32f6d32230c8d91f97d5″,"width":1240},{"src":"https://i.guim.co.uk/img/media/51f02f3a750fc77bfcecbdaa127d584798a41967/0_0_2826_1837/master/2826.jpg?width=605&quality=85&auto=format&fit=max&s=3512c0e9d5fb25bca8d1ce99bbb63364″,"width":605},{"src":"https://i.guim.co.uk/img/media/51f02f3a750fc77bfcecbdaa127d584798a41967/0_0_2826_1837/master/2826.jpg?width=605&quality=45&auto=format&fit=max&dpr=2&s=9a8c8cdf4780ad122abe44178b79bc14″,"width":1210},{"src":"https://i.guim.co.uk/img/media/51f02f3a750fc77bfcecbdaa127d584798a41967/0_0_2826_1837/master/2826.jpg?width=445&quality=85&auto=format&fit=max&s=d52f579287c3043fdf1a07fcb96f4e28″,"width":445},{"src":"https://i.guim.co.uk/img/media/51f02f3a750fc77bfcecbdaa127d584798a41967/0_0_2826_1837/master/2826.jpg?width=445&quality=45&auto=format&fit=max&dpr=2&s=caf2f448f297b41f4d4781c6dbd575b0″,"width":890}]},{"weighting":"immersive","srcSet":[{"src":"https://i.guim.co.uk/img/media/51f02f3a750fc77bfcecbdaa127d584798a41967/0_0_2826_1837/master/2826.jpg?width=1900&quality=85&auto=format&fit=max&s=33b9c29e0b208f7dd901fda80259fa78″,"width":1900},{"src":"https://i.guim.co.uk/img/media/51f02f3a750fc77bfcecbdaa127d584798a41967/0_0_2826_1837/master/2826.jpg?width=1900&quality=45&auto=format&fit=max&dpr=2&s=a4ca33b0841221fc7989b9376c0741eb","width":3800},{"src":"https://i.guim.co.uk/img/media/51f02f3a750fc77bfcecbdaa127d584798a41967/0_0_2826_1837/master/2826.jpg?width=1300&quality=85&auto=format&fit=max&s=580981bc4b35cd2051387bb63be20634″,"width":1300},{"src":"https://i.guim.co.uk/img/media/51f02f3a750fc77bfcecbdaa127d584798a41967/0_0_2826_1837/master/2826.jpg?width=1300&quality=45&auto=format&fit=max&dpr=2&s=4f6e72343cfea9930ca09b96821ee01a","width":2600},{"src":"https://i.guim.co.uk/img/media/51f02f3a750fc77bfcecbdaa127d584798a41967/0_0_2826_1837/master/2826.jpg?width=1140&quality=85&auto=format&fit=max&s=b1d45c3b0aa03b60e60a3f68adc23a2d","width":1140},{"src":"https://i.guim.co.uk/img/media/51f02f3a750fc77bfcecbdaa127d584798a41967/0_0_2826_1837/master/2826.jpg?width=1140&quality=45&auto=format&fit=max&dpr=2&s=582117d37d2851640a4ef9bf2b52889c","width":2280},{"src":"https://i.guim.co.uk/img/media/51f02f3a750fc77bfcecbdaa127d584798a41967/0_0_2826_1837/master/2826.jpg?width=980&quality=85&auto=format&fit=max&s=326e94d6f7e9799ffebf46cd5f969491″,"width":980},{"src":"https://i.guim.co.uk/img/media/51f02f3a750fc77bfcecbdaa127d584798a41967/0_0_2826_1837/master/2826.jpg?width=980&quality=45&auto=format&fit=max&dpr=2&s=8741194a7e03712cfa291ad453436fbf","width":1960},{"src":"https://i.guim.co.uk/img/media/51f02f3a750fc77bfcecbdaa127d584798a41967/0_0_2826_1837/master/2826.jpg?width=740&quality=85&auto=format&fit=max&s=ada71a71b58513a1d577945ebba035db","width":740},{"src":"https://i.guim.co.uk/img/media/51f02f3a750fc77bfcecbdaa127d584798a41967/0_0_2826_1837/master/2826.jpg?width=740&quality=45&auto=format&fit=max&dpr=2&s=aad276e4f9a7542eba267c4425990806″,"width":1480},{"src":"https://i.guim.co.uk/img/media/51f02f3a750fc77bfcecbdaa127d584798a41967/0_0_2826_1837/master/2826.jpg?width=660&quality=85&auto=format&fit=max&s=b2541929ddfbf47142e9ce877e65316a","width":660},{"src":"https://i.guim.co.uk/img/media/51f02f3a750fc77bfcecbdaa127d584798a41967/0_0_2826_1837/master/2826.jpg?width=660&quality=45&auto=format&fit=max&dpr=2&s=6864cf625bd75f4fe0efde45b970cfe6″,"width":1320},{"src":"https://i.guim.co.uk/img/media/51f02f3a750fc77bfcecbdaa127d584798a41967/0_0_2826_1837/master/2826.jpg?width=480&quality=85&auto=format&fit=max&s=a2ec977bd4365dcc46600eb32e4712be","width":480},{"src":"https://i.guim.co.uk/img/media/51f02f3a750fc77bfcecbdaa127d584798a41967/0_0_2826_1837/master/2826.jpg?width=480&quality=45&auto=format&fit=max&dpr=2&s=99385345763639fd205213ad7ce39c34″,"width":960}]}],"elementId":"fcd097da-9d7b-41fa-a7c9-493d550b326b"}],"attributes":{"pinned":false,"keyEvent":true,"summary":false},"blockCreatedOn":1647376978000,"blockCreatedOnDisplay":"16.42 EDT","blockLastUpdated":1647378087000,"blockLastUpdatedDisplay":"17.01 EDT","blockFirstPublished":1647377083000,"blockFirstPublishedDisplay":"16.44 EDT","blockFirstPublishedDisplayNoTimezone":"16.44″,"title":"United 0-1 Atletico (agg: 1-2)","contributors":[],"primaryDateLine":"Tue 15 Mar 2022 18.35 EDT","secondaryDateLine":"First published on Tue 15 Mar 2022 14.45 EDT"},{"id":"6230fa0a8f0810b64b1b594a","elements":[{"_type":"model.dotcomrendering.pageElements.TextBlockElement","html":"

Atletico have the lead! Lodi nods in at the back post!

","elementId":"7496f193-6273-4eba-89a9-77caa14c01b0″},{"_type":"model.dotcomrendering.pageElements.ImageBlockElement","media":{"allImages":[{"index":0,"fields":{"height":"1671″,"width":"2507″},"mediaType":"Image","mimeType":"image/jpeg","url":"https://media.guim.co.uk/918cf0e465fd2e765dbb674b88d0341906878714/0_0_2507_1671/2507.jpg"},{"index":1,"fields":{"isMaster":"true","height":"1671″,"width":"2507″},"mediaType":"Image","mimeType":"image/jpeg","url":"https://media.guim.co.uk/918cf0e465fd2e765dbb674b88d0341906878714/0_0_2507_1671/master/2507.jpg"},{"index":2,"fields":{"height":"1333″,"width":"2000″},"mediaType":"Image","mimeType":"image/jpeg","url":"https://media.guim.co.uk/918cf0e465fd2e765dbb674b88d0341906878714/0_0_2507_1671/2000.jpg"},{"index":3,"fields":{"height":"667″,"width":"1000″},"mediaType":"Image","mimeType":"image/jpeg","url":"https://media.guim.co.uk/918cf0e465fd2e765dbb674b88d0341906878714/0_0_2507_1671/1000.jpg"},{"index":4,"fields":{"height":"333″,"width":"500″},"mediaType":"Image","mimeType":"image/jpeg","url":"https://media.guim.co.uk/918cf0e465fd2e765dbb674b88d0341906878714/0_0_2507_1671/500.jpg"},{"index":5,"fields":{"height":"93″,"width":"140″},"mediaType":"Image","mimeType":"image/jpeg","url":"https://media.guim.co.uk/918cf0e465fd2e765dbb674b88d0341906878714/0_0_2507_1671/140.jpg"}]},"data":{"alt":"Renan Lodi beats Diogo Dalot in the air to give Atletico the lead.","caption":"Renan Lodi beats Diogo Dalot in the air to give Atletico the lead.","credit":"Photograph: Dave Thompson/AP"},"displayCredit":true,"role":"inline","imageSources":[{"weighting":"inline","srcSet":[{"src":"https://i.guim.co.uk/img/media/918cf0e465fd2e765dbb674b88d0341906878714/0_0_2507_1671/master/2507.jpg?width=620&quality=85&auto=format&fit=max&s=de4904d651af0e0e5a9bec2a23978d1c","width":620},{"src":"https://i.guim.co.uk/img/media/918cf0e465fd2e765dbb674b88d0341906878714/0_0_2507_1671/master/2507.jpg?width=620&quality=45&auto=format&fit=max&dpr=2&s=68c8b90bc636406a15b7098cac3a9059″,"width":1240},{"src":"https://i.guim.co.uk/img/media/918cf0e465fd2e765dbb674b88d0341906878714/0_0_2507_1671/master/2507.jpg?width=605&quality=85&auto=format&fit=max&s=fa8883682e900872c9a7e8864d8f4db8″,"width":605},{"src":"https://i.guim.co.uk/img/media/918cf0e465fd2e765dbb674b88d0341906878714/0_0_2507_1671/master/2507.jpg?width=605&quality=45&auto=format&fit=max&dpr=2&s=0c1055bc28f4967a7f4fb6f9c4bc2495″,"width":1210},{"src":"https://i.guim.co.uk/img/media/918cf0e465fd2e765dbb674b88d0341906878714/0_0_2507_1671/master/2507.jpg?width=445&quality=85&auto=format&fit=max&s=3eb9880927bd6c1652f4525b76a8b82f","width":445},{"src":"https://i.guim.co.uk/img/media/918cf0e465fd2e765dbb674b88d0341906878714/0_0_2507_1671/master/2507.jpg?width=445&quality=45&auto=format&fit=max&dpr=2&s=9413ae47b1eba41aa860931d064bf2ca","width":890}]},{"weighting":"thumbnail","srcSet":[{"src":"https://i.guim.co.uk/img/media/918cf0e465fd2e765dbb674b88d0341906878714/0_0_2507_1671/master/2507.jpg?width=140&quality=85&auto=format&fit=max&s=13f0f4d3398f36e936c9984ad44f4ecf","width":140},{"src":"https://i.guim.co.uk/img/media/918cf0e465fd2e765dbb674b88d0341906878714/0_0_2507_1671/master/2507.jpg?width=140&quality=45&auto=format&fit=max&dpr=2&s=cd7bf19cbabbb1238a5ba303f8639b18″,"width":280},{"src":"https://i.guim.co.uk/img/media/918cf0e465fd2e765dbb674b88d0341906878714/0_0_2507_1671/master/2507.jpg?width=120&quality=85&auto=format&fit=max&s=59362f1a0f9621e6ba70657de1d66dd6″,"width":120},{"src":"https://i.guim.co.uk/img/media/918cf0e465fd2e765dbb674b88d0341906878714/0_0_2507_1671/master/2507.jpg?width=120&quality=45&auto=format&fit=max&dpr=2&s=7ea5d64009c9772dce9692b6609f1480″,"width":240}]},{"weighting":"supporting","srcSet":[{"src":"https://i.guim.co.uk/img/media/918cf0e465fd2e765dbb674b88d0341906878714/0_0_2507_1671/master/2507.jpg?width=380&quality=85&auto=format&fit=max&s=3a05ef195402f898fdc437eac09420c1″,"width":380},{"src":"https://i.guim.co.uk/img/media/918cf0e465fd2e765dbb674b88d0341906878714/0_0_2507_1671/master/2507.jpg?width=380&quality=45&auto=format&fit=max&dpr=2&s=35d3b80c66ada8567cb5b7b8ffd593d0″,"width":760},{"src":"https://i.guim.co.uk/img/media/918cf0e465fd2e765dbb674b88d0341906878714/0_0_2507_1671/master/2507.jpg?width=300&quality=85&auto=format&fit=max&s=6c28d585e48ddd850ddbaf5a1b387ec4″,"width":300},{"src":"https://i.guim.co.uk/img/media/918cf0e465fd2e765dbb674b88d0341906878714/0_0_2507_1671/master/2507.jpg?width=300&quality=45&auto=format&fit=max&dpr=2&s=19cf3ae0a9e8a32aec9354a99f563a88″,"width":600},{"src":"https://i.guim.co.uk/img/media/918cf0e465fd2e765dbb674b88d0341906878714/0_0_2507_1671/master/2507.jpg?width=620&quality=85&auto=format&fit=max&s=de4904d651af0e0e5a9bec2a23978d1c","width":620},{"src":"https://i.guim.co.uk/img/media/918cf0e465fd2e765dbb674b88d0341906878714/0_0_2507_1671/master/2507.jpg?width=620&quality=45&auto=format&fit=max&dpr=2&s=68c8b90bc636406a15b7098cac3a9059″,"width":1240},{"src":"https://i.guim.co.uk/img/media/918cf0e465fd2e765dbb674b88d0341906878714/0_0_2507_1671/master/2507.jpg?width=605&quality=85&auto=format&fit=max&s=fa8883682e900872c9a7e8864d8f4db8″,"width":605},{"src":"https://i.guim.co.uk/img/media/918cf0e465fd2e765dbb674b88d0341906878714/0_0_2507_1671/master/2507.jpg?width=605&quality=45&auto=format&fit=max&dpr=2&s=0c1055bc28f4967a7f4fb6f9c4bc2495″,"width":1210},{"src":"https://i.guim.co.uk/img/media/918cf0e465fd2e765dbb674b88d0341906878714/0_0_2507_1671/master/2507.jpg?width=445&quality=85&auto=format&fit=max&s=3eb9880927bd6c1652f4525b76a8b82f","width":445},{"src":"https://i.guim.co.uk/img/media/918cf0e465fd2e765dbb674b88d0341906878714/0_0_2507_1671/master/2507.jpg?width=445&quality=45&auto=format&fit=max&dpr=2&s=9413ae47b1eba41aa860931d064bf2ca","width":890}]},{"weighting":"showcase","srcSet":[{"src":"https://i.guim.co.uk/img/media/918cf0e465fd2e765dbb674b88d0341906878714/0_0_2507_1671/master/2507.jpg?width=860&quality=85&auto=format&fit=max&s=fd408353a982bc0b9ef8c9e22cbf3e41″,"width":860},{"src":"https://i.guim.co.uk/img/media/918cf0e465fd2e765dbb674b88d0341906878714/0_0_2507_1671/master/2507.jpg?width=860&quality=45&auto=format&fit=max&dpr=2&s=1e1992877526f31767dcef283c27d448″,"width":1720},{"src":"https://i.guim.co.uk/img/media/918cf0e465fd2e765dbb674b88d0341906878714/0_0_2507_1671/master/2507.jpg?width=780&quality=85&auto=format&fit=max&s=699a013bfac57e2600d905289718cdbf","width":780},{"src":"https://i.guim.co.uk/img/media/918cf0e465fd2e765dbb674b88d0341906878714/0_0_2507_1671/master/2507.jpg?width=780&quality=45&auto=format&fit=max&dpr=2&s=af58131609cb5d2c5034653dba522c7d","width":1560},{"src":"https://i.guim.co.uk/img/media/918cf0e465fd2e765dbb674b88d0341906878714/0_0_2507_1671/master/2507.jpg?width=620&quality=85&auto=format&fit=max&s=de4904d651af0e0e5a9bec2a23978d1c","width":620},{"src":"https://i.guim.co.uk/img/media/918cf0e465fd2e765dbb674b88d0341906878714/0_0_2507_1671/master/2507.jpg?width=620&quality=45&auto=format&fit=max&dpr=2&s=68c8b90bc636406a15b7098cac3a9059″,"width":1240},{"src":"https://i.guim.co.uk/img/media/918cf0e465fd2e765dbb674b88d0341906878714/0_0_2507_1671/master/2507.jpg?width=605&quality=85&auto=format&fit=max&s=fa8883682e900872c9a7e8864d8f4db8″,"width":605},{"src":"https://i.guim.co.uk/img/media/918cf0e465fd2e765dbb674b88d0341906878714/0_0_2507_1671/master/2507.jpg?width=605&quality=45&auto=format&fit=max&dpr=2&s=0c1055bc28f4967a7f4fb6f9c4bc2495″,"width":1210},{"src":"https://i.guim.co.uk/img/media/918cf0e465fd2e765dbb674b88d0341906878714/0_0_2507_1671/master/2507.jpg?width=445&quality=85&auto=format&fit=max&s=3eb9880927bd6c1652f4525b76a8b82f","width":445},{"src":"https://i.guim.co.uk/img/media/918cf0e465fd2e765dbb674b88d0341906878714/0_0_2507_1671/master/2507.jpg?width=445&quality=45&auto=format&fit=max&dpr=2&s=9413ae47b1eba41aa860931d064bf2ca","width":890}]},{"weighting":"halfwidth","srcSet":[{"src":"https://i.guim.co.uk/img/media/918cf0e465fd2e765dbb674b88d0341906878714/0_0_2507_1671/master/2507.jpg?width=620&quality=85&auto=format&fit=max&s=de4904d651af0e0e5a9bec2a23978d1c","width":620},{"src":"https://i.guim.co.uk/img/media/918cf0e465fd2e765dbb674b88d0341906878714/0_0_2507_1671/master/2507.jpg?width=620&quality=45&auto=format&fit=max&dpr=2&s=68c8b90bc636406a15b7098cac3a9059″,"width":1240},{"src":"https://i.guim.co.uk/img/media/918cf0e465fd2e765dbb674b88d0341906878714/0_0_2507_1671/master/2507.jpg?width=605&quality=85&auto=format&fit=max&s=fa8883682e900872c9a7e8864d8f4db8″,"width":605},{"src":"https://i.guim.co.uk/img/media/918cf0e465fd2e765dbb674b88d0341906878714/0_0_2507_1671/master/2507.jpg?width=605&quality=45&auto=format&fit=max&dpr=2&s=0c1055bc28f4967a7f4fb6f9c4bc2495″,"width":1210},{"src":"https://i.guim.co.uk/img/media/918cf0e465fd2e765dbb674b88d0341906878714/0_0_2507_1671/master/2507.jpg?width=445&quality=85&auto=format&fit=max&s=3eb9880927bd6c1652f4525b76a8b82f","width":445},{"src":"https://i.guim.co.uk/img/media/918cf0e465fd2e765dbb674b88d0341906878714/0_0_2507_1671/master/2507.jpg?width=445&quality=45&auto=format&fit=max&dpr=2&s=9413ae47b1eba41aa860931d064bf2ca","width":890}]},{"weighting":"immersive","srcSet":[{"src":"https://i.guim.co.uk/img/media/918cf0e465fd2e765dbb674b88d0341906878714/0_0_2507_1671/master/2507.jpg?width=1900&quality=85&auto=format&fit=max&s=077ee09eed90a54cf15f7e10cadb46d4″,"width":1900},{"src":"https://i.guim.co.uk/img/media/918cf0e465fd2e765dbb674b88d0341906878714/0_0_2507_1671/master/2507.jpg?width=1900&quality=45&auto=format&fit=max&dpr=2&s=85ff02e3728fdf88030198c3213900ec","width":3800},{"src":"https://i.guim.co.uk/img/media/918cf0e465fd2e765dbb674b88d0341906878714/0_0_2507_1671/master/2507.jpg?width=1300&quality=85&auto=format&fit=max&s=a53dc02fcaa2f4036806594259257e98″,"width":1300},{"src":"https://i.guim.co.uk/img/media/918cf0e465fd2e765dbb674b88d0341906878714/0_0_2507_1671/master/2507.jpg?width=1300&quality=45&auto=format&fit=max&dpr=2&s=255bc4c6493f1c5507b97986ced4b45c","width":2600},{"src":"https://i.guim.co.uk/img/media/918cf0e465fd2e765dbb674b88d0341906878714/0_0_2507_1671/master/2507.jpg?width=1140&quality=85&auto=format&fit=max&s=3b786e522d49c61106a263c7a613dc56″,"width":1140},{"src":"https://i.guim.co.uk/img/media/918cf0e465fd2e765dbb674b88d0341906878714/0_0_2507_1671/master/2507.jpg?width=1140&quality=45&auto=format&fit=max&dpr=2&s=e20bb687722fa74981d6f1495a25bb7f","width":2280},{"src":"https://i.guim.co.uk/img/media/918cf0e465fd2e765dbb674b88d0341906878714/0_0_2507_1671/master/2507.jpg?width=980&quality=85&auto=format&fit=max&s=b704e5ca86a12ec89b1adceee9e87533″,"width":980},{"src":"https://i.guim.co.uk/img/media/918cf0e465fd2e765dbb674b88d0341906878714/0_0_2507_1671/master/2507.jpg?width=980&quality=45&auto=format&fit=max&dpr=2&s=fc9383583ce5bc34e94a3e4374f23d0a","width":1960},{"src":"https://i.guim.co.uk/img/media/918cf0e465fd2e765dbb674b88d0341906878714/0_0_2507_1671/master/2507.jpg?width=740&quality=85&auto=format&fit=max&s=6919f1b3bf53c6afbdcc3b79493d1424″,"width":740},{"src":"https://i.guim.co.uk/img/media/918cf0e465fd2e765dbb674b88d0341906878714/0_0_2507_1671/master/2507.jpg?width=740&quality=45&auto=format&fit=max&dpr=2&s=623356e48d27fcf5c5a331a6d030f90f","width":1480},{"src":"https://i.guim.co.uk/img/media/918cf0e465fd2e765dbb674b88d0341906878714/0_0_2507_1671/master/2507.jpg?width=660&quality=85&auto=format&fit=max&s=49901120718ebe6ae9c506481abe71af","width":660},{"src":"https://i.guim.co.uk/img/media/918cf0e465fd2e765dbb674b88d0341906878714/0_0_2507_1671/master/2507.jpg?width=660&quality=45&auto=format&fit=max&dpr=2&s=b79200ef9c9e3cee279d0fa69f3763f8″,"width":1320},{"src":"https://i.guim.co.uk/img/media/918cf0e465fd2e765dbb674b88d0341906878714/0_0_2507_1671/master/2507.jpg?width=480&quality=85&auto=format&fit=max&s=d02fe6c05d0a70e96befdef84bd20ef9″,"width":480},{"src":"https://i.guim.co.uk/img/media/918cf0e465fd2e765dbb674b88d0341906878714/0_0_2507_1671/master/2507.jpg?width=480&quality=45&auto=format&fit=max&dpr=2&s=361f19de1f58e12bc6b2b6e062a6fef3″,"width":960}]}],"elementId":"1b8a9cb3-dd95-4509-a0b5-034f69761680″}],"attributes":{"pinned":false,"keyEvent":true,"summary":false},"blockCreatedOn":1647376906000,"blockCreatedOnDisplay":"16.41 EDT","blockLastUpdated":1647377303000,"blockLastUpdatedDisplay":"16.48 EDT","blockFirstPublished":1647376973000,"blockFirstPublishedDisplay":"16.42 EDT","blockFirstPublishedDisplayNoTimezone":"16.42″,"title":"GOAL! United 0-1 Atletico (Lodi 40)","contributors":[],"primaryDateLine":"Tue 15 Mar 2022 18.35 EDT","secondaryDateLine":"First published on Tue 15 Mar 2022 14.45 EDT"},{"id":"6230ec1d8f08d87b477de0f8″,"elements":[{"_type":"model.dotcomrendering.pageElements.TextBlockElement","html":"

"We are fully aware that we need both the team and the fans on top form tonight. We know we have to be on a high energetic level right from the start." Regarding the decision to start McTominay, he reiterates the need for "a very high level of aggression and energy."

","elementId":"1ce9764f-9686-4f6d-a1e3-29b16e1ad764″}],"attributes":{"pinned":false,"keyEvent":true,"summary":false},"blockCreatedOn":1647373341000,"blockCreatedOnDisplay":"15.42 EDT","blockLastUpdated":1647373512000,"blockLastUpdatedDisplay":"15.45 EDT","blockFirstPublished":1647373512000,"blockFirstPublishedDisplay":"15.45 EDT","blockFirstPublishedDisplayNoTimezone":"15.45″,"title":"Rangnick's pre-match thoughts","contributors":[],"primaryDateLine":"Tue 15 Mar 2022 18.35 EDT","secondaryDateLine":"First published on Tue 15 Mar 2022 14.45 EDT"},{"id":"6230d2328f0827cfb7b98b59″,"elements":[{"_type":"model.dotcomrendering.pageElements.TextBlockElement","html":"

No rest for Ronaldo: he spearheads the attack following his barnstorming hat-trick against Spurs on Saturday. Pogba is dropped so that McTominay can return to midfield.

","elementId":"b68f1d21-55db-4111-a4f9-2f7bf566a52a"},{"_type":"model.dotcomrendering.pageElements.TextBlockElement","html":"

United: De Gea; Dalot, Varane, Maguire, Telles; McTominay, Fred; Sancho, Fernandes, Elanga; Ronaldo

","elementId":"e6c2d99d-c1c5-4cf5-ad27-5113d91673a5″},{"_type":"model.dotcomrendering.pageElements.TextBlockElement","html":"

Subs: Heaton, Henderson, Bailly, Jones, Lindelof, Wan-Bissaka, Lingard, Mata, Matic, Pogba, Cavani, Rashford

","elementId":"7e6c181a-00ab-48ce-8ad3-2d36681b0f77″},{"_type":"model.dotcomrendering.pageElements.TextBlockElement","html":"

Atletico: Oblak; Llorente, Gimenez, Savic, Reinildo, Renan Lodi; Koke, Herrera, De Paul; Greizmann, Joao Felix

","elementId":"36f7b02f-f218-4dfe-98d3-98be4fa99e58″},{"_type":"model.dotcomrendering.pageElements.TextBlockElement","html":"

Subs: Lecomte, Christian, Felipe, Hermoso, Gonzalez, Ibra, Kondogbia, Serrano, Moreno, Carlos, Suarez, Correa

","elementId":"a1b7097e-cb9b-474d-a115-af6e45623852″},{"_type":"model.dotcomrendering.pageElements.TextBlockElement","html":"

Referee: S Vincic (Slovenia)

","elementId":"73e10003-8537-482a-a27d-766d3399aa9c"}],"attributes":{"pinned":false,"keyEvent":true,"summary":false},"blockCreatedOn":1647369909000,"blockCreatedOnDisplay":"14.45 EDT","blockLastUpdated":1647371788000,"blockLastUpdatedDisplay":"15.16 EDT","blockFirstPublished":1647370795000,"blockFirstPublishedDisplay":"14.59 EDT","blockFirstPublishedDisplayNoTimezone":"14.59″,"title":"Teams","contributors":[],"primaryDateLine":"Tue 15 Mar 2022 18.35 EDT","secondaryDateLine":"First published on Tue 15 Mar 2022 14.45 EDT"},{"id":"623052978f08928a93ae0326″,"elements":[{"_type":"model.dotcomrendering.pageElements.TextBlockElement","html":"

Time was you could say United have already done the hardest part in this Last 16 tie. But the abolition of the away goals rule means the 1-1 draw in Madrid doesn't mean much. Any win will do for Atletico and they are capable of winning in England, as they showed when pulling off an improbable victory at Anfield in 2020. Granted, Atletico are not as strong now as they were then, as was proven when they returned to Anfield in this season's group stages (though they did win in Porto and Milan), but then again, United are no Liverpool. Does anyone know who United actually are?

","elementId":"f4d3b3b1-64d7-40b7-bf6a-764ddda84f28″},{"_type":"model.dotcomrendering.pageElements.TextBlockElement","html":"

They're a confusing team these days, capable both of bursts of brilliance and bouts of ineptitude. They've struggled in all their home European games so far this season without actually losing. Given that winning the Champions League is the only way they can land a trophy this season – and probably the only way they can get back into the competition for next season – the pressure is very much on United today. How will this strange bunch respond? That's what we're here to find out. It's all on!

","elementId":"68219c3c-2a2a-4bcd-975a-3eafda3edfd7″},{"_type":"model.dotcomrendering.pageElements.RichLinkBlockElement","url":"https://www.theguardian.com/football/2022/mar/14/diego-simeone-keeps-faith-in-atleticos-old-ways-to-beat-manchester-united","text":"Diego Simeone keeps faith in Atlético's old ways to beat Manchester United","prefix":"Related: ","role":"inline","elementId":"5db9936d-2d64-467d-b81c-f6f415d5166b"}],"attributes":{"pinned":false,"keyEvent":true,"summary":false},"blockCreatedOn":1647369909000,"blockCreatedOnDisplay":"14.45 EDT","blockLastUpdated":1647349231000,"blockLastUpdatedDisplay":"09.00 EDT","blockFirstPublished":1647369909000,"blockFirstPublishedDisplay":"14.45 EDT","blockFirstPublishedDisplayNoTimezone":"14.45″,"title":"Preamble","contributors":[],"primaryDateLine":"Tue 15 Mar 2022 18.35 EDT","secondaryDateLine":"First published on Tue 15 Mar 2022 14.45 EDT"}],"filterKeyEvents":false,"format":{"display":0,"theme":2,"design":10},"id":"key-events-carousel-mobile"}">

Key events
Jonathan Liew on a dismal defeat for Manchester United
Rangnick says he was satisfied with United's first half but "we could and should have scored". He says conceding on the counter gave Atlético a lead to defend, which they are experts at doing. And he laments "some curious refereeing decisions" in the second half along with Atletico's time-wasting and says that "for there to be only four minutes extra time was a joke".
Read Sid Lowe's interview with Anthony Martial
Read David Hytner's match report
"We are really disappointed with the result. It's difficult to describe in words how we feel. They are a team with a lot of experience, they know how to play those types of games … so it was difficult for us to create many chances. As soon as they scored the goal, they put the whole team behind … it's very difficult to score against them. WE tried until the end but it wasn't enough ….. We have to keep fighting but this is a tough moment, I feel sad."
Atlético's players gather by the end of the pitch in front of their fans, chanting and dancing. United's players have long since trudged down the tunnel. They didn't perform terribly today but they did show their limitations and their lack of a plan. Atlético won't go much further in this tournament.
Full-time: Manchester United 0-1 Atletico Madrid (agg: 1-2)
United are out of the Champions League. Who knows when we will see them in it again? They simply weren't good enough today, a ragged, low-energy bunch beaten by a cannier team. When the final whistle sounded, Diego Simeone ran for the tunnel, dodging various missiles from home fans.
90+5 min: Oblak catches the inswinging corner.
90+4 min: Cornet to United … surely their last chance? De Gea comes forward for it…
90+3 min: Atletico substitution: Correa on, Griezmann off.
90+2 min: Good tackle in midfield by Pogba, who then sends Mata clear. He's brought down – no yellow card for Atletico, funnily enough, but a free kick to United. Telles' delivery is cleared by the first man.
90 min: United will be in Europe for at least four more minutes…
89 min: This is how things are going for United: a yellow card has just been shown to … Darren Fletcher, apparently for protesting about the award of a free kick. United have given away a lot of them in the last few minutes, and every time Atletico players milk it.
88 min: United aren't sharp enough in any sense. There's a lot of fluster and bluster about them but they're slow and not really hurting Atletico, who only have to keep them at bay and wait for United to misplace a pass.
87 min: After more blunt United possession, Rashford gives the ball away, allowing Atletico to counter. Dalot stops them with a foul, earning a yellow card.
85 min: It's attack v defense, and the defense is well on top: United just can't work an opening.
84 min United substitution: Mata on, Maguire off.
83 min: Sancho wins a corner off Savic down the left. Talk to you. Joao Felix heads away at the near post. Dalot gathers it and goes for a blast from 25 yards. Wide.
82 min: Varane fouls Joao Felix. Then Matic throws the ball gently at the forward as he's lying on the ground. Cue pantomime outrage from the Atletico players, and a yellow card for Matic.
80 min: Atlético try to deflate United with some possession play. Then they frustrate them by taking their time over the first substitution, Kondogbia eventually replacing Koke.
78 min: Another free kick to United in a useful crossing position, this time for a foul on Rashford. Telles flies it in from the left. Varane rises to meet it with a glancing header near the penalty spot. Oblak makes an excellent one-handed save!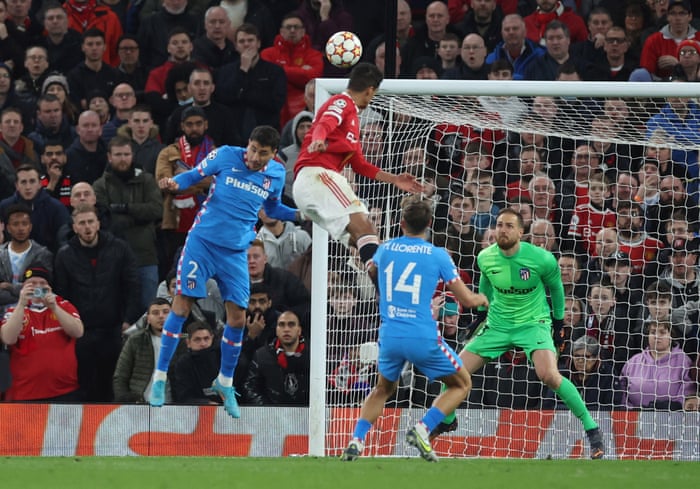 76 min: United substitution: Cavani on, Fred off.
74 min: Varane sprays a fine ball wide to Telles on the left. Telles digs out a dangerous cross, looking for Ronaldo coming in at the back post. but Gimenez, yet again, is well placed to head clear.
73 min: Herrera escapes a booking after a late tackle on Varane. Freekick to United mid-way inside the Atletico half. Telles curls one towards Ronaldo. But Oblak surges off his line and gets there first.
72 min: United are quite ragged and low on energy. Atlético are no geniuses but they seem far smarter now.
71 min: Joao Felix spots De Gea off his line and tries to lob him from 40 yards. At least, I assume that's what he was trying to do. What he actually did was drag a low shot 25 yards wide.
69 min: Rashford's first involvement sees him lose the ball and then bring down his man. Free kick to Atletico on half-way.
United triple substitution: Rashford, Pogba and Matic on for Elanga, McTominay and Fernandes.
66 min: Llorente fouls Fred, giving United a free kick just to the left of the Atletico box. There's all kinds of pushing and shoving in the box as the players await Fernandes' delivery. He then whips it across the face of the goal … agonizingly too high for Ronaldo and Maguire!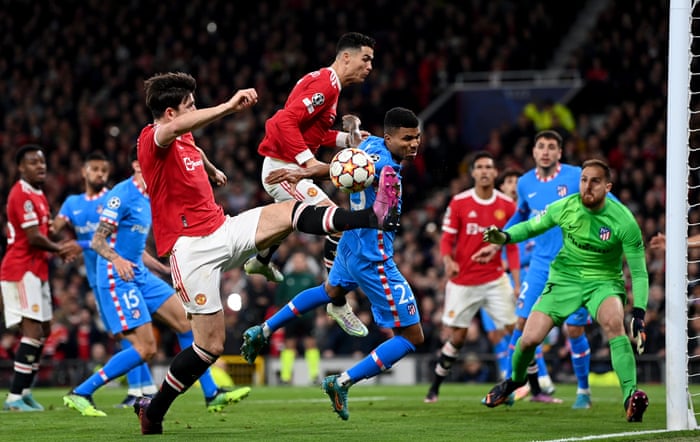 64 min: United need Pogba's creativity. He's warming up.
62 min: More side-to-=side passing by United, all a bit slow. Telles tries to inject some zip, cutting infield and looking for Ronaldo. But Savic reads his intentions, intercepts the pass and instigates a counter. Joao Felix almost gets on the end of a low cross from the left but it's poked behind for a corner. And from the set piece Gimenez powers a header just over the bar. That could have been curtains for United.
60 min: A long spell of possession for United, all in the Atletico half. They go from side to side and back again before eventually working Dalot in down the right. Dalot clips over a nice cross. Sancho meets it on the volley 10 yards out, stretching and under pressure. He blasts wide of the far post. That would have been a fantastic goal.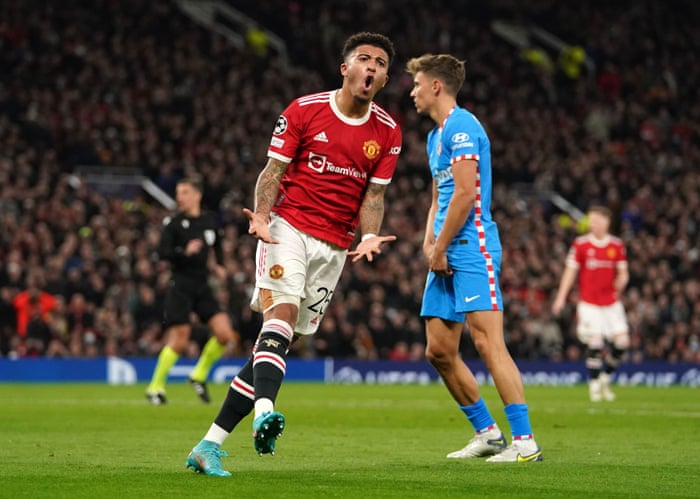 58 min: Fernandes launches a hopeful cross into the area from the right wing. Easy pickings for Oblak.
57 min: It's not happening for United. They can't make any real inroads into the Atlético defense, and the visitors look brighter when in possession.
54 min: Sancho, on the left wing, pops the ball inside to Fred. The Brazilian is so high on confidence today that he tries a shot from 25 yards. He pulls it well wide of the far post.
53 min: Joao Felix pesters Maguire in the United box. Maguire goes one way, then tries going the other way, then passes back to De Gea, who makes a hasty and inaccurate clearance … but saves the return shot from 25 yards. De Gea then bawls at Maguire to quit messing around at the back.
51 min: United are getting frustrated. Atlético are knocking the ball cleverly, drawing fouls.
49 min: Fernandes gets told off for relentless whinging. If Luis Suarez comes on, it'll be interesting to see how that pair get along …
48 min: Fernandes misplaces a pass in midfield and then berates the ref rather than chases back. Atlético take the opportunity to stroke the ball around, trying to puncture United's mojo.
47 min: Dalot pings a pass from the halfway line leaving Fernandes at the edge of the box. The Portuguese flicks it back beautifully into the path of Elanga, who fires just wide from the corner of the box. Bright start to the second half by United, who almost equalized before Atletico even had a touch.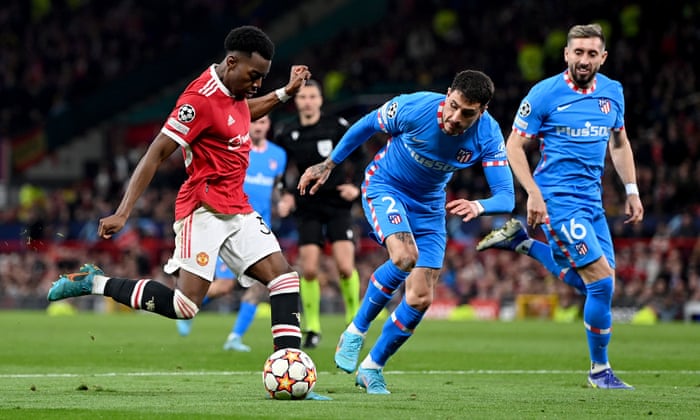 46 min: No personnel changes yet: how long before Rangnick casts on Pogba, Rashford and Cavani?
Half-time: United 0-1 Atletico (Agg: 1-2)
United are in trouble. They were on top for most of the first half and missed a couple of good chances before being felled by a cutting counter-attack. Atlético have them where they want them.
45+2 min: Fernandes has a swipe from miles out! It's got a vicious swerve on it and Oblak has to adjust his feet quickly to change directions and claw it away!
45+1 min: Reinidlo whacks the ball from the edge of his own box all the way down the other end. Atlético just want to get to half-time with their lead intact.
45 min: There will be at least two added minutes in this half.